Get information about future summits!
All parents get frustrated at times. And some of us lose patience more often than we'd like.
Feeling angry and managing our negative emotions in positive and healthy ways can give us the chance to set a good example for our children. Calm parents are better at helping children handle frustration. 
Have you ever been upset with yourself about how you behaved as a parent during periods of frustration?
Do you do find that when you have a 'good day' your kids have 'a good day' as well?
Did you notice that when you have an emotional day your children mirror that? It's almost as if when it rains it pours.
Children feed on our emotions and we at times feed off of theirs.
Parenting is hard. Recent studies show that parents agree raising children nowadays is more difficult than in the past generations. One major reason is the sheer expectation we have to "get it right" based on a given parenting approach, another is the pressure we put on ourselves to be the "perfect parent" while balancing many different demands including work, family time, household chores, children's activities, and social activities.
The next time frustration occurs, try one of the ideas shared during this International Parenting Summit going live April 10th and 11th.
I hope you can join us.
All about the International Parenting Summit Series
from Malva Gasowski your summit host
Why attend the International Parenting Summit?
We are so busy improving our homes; planning the design, re-modeling, and furnishing.  We are so busy improving our businesses; acquiring new skills, tweaking marketing content, applying project changes. We might also be busy concentrating on improving our health by implementing exercise regimes and diet plans.
Have you thought about spending the time to improve the relationships you have in your family. Spend time to consciously plan how you want your family dynamic to flow.
Spend one weekend every month (second weekend of the month) to get teachings about family, parenting and relationships skills in the following topics:
* Teaching Communication to our Children (available for purchase)
* Calm parents are better at helping children handel frustration  - GOING LIVE APRIL 10th 
* Helping children develop self-esteem
* Finding a successful approach to disciplining our children 
* Nurturing relationships through the thick and the thin
* Conflict management at home
* Using positive reinforcement as parents
* Power struggles at it's best
Want to hear more from our speakers?
Parenting experts worldwide helping you become the positive change in your family relationship
Find out more
about the nuggets the experts had shared on the following topics
Co-regulation between parent and infant enhances self-regulation within the child

Our power is found in our composure.

Wouldn't it be great if we could stay calm all the time? But that's truly not possible, so what do we do after we lose our cool?

A storm can not calm a storm

Why you don't have to stay calm to be a good parent?

Staying calm helps your child feel safe and secure

Grounding strategies to help keep us calm

L.O.V.E - 4 Step game plan to staying calm in any situation

What to do when children push your buttons?

Emotional Zones and their navigation
Why it is unrealistic to believe you can be the perfect calm mentor all the time?

Parents cannot be effective in teaching appropriate coping strategies if they themselves cannot remain calm while managing a difficult scenariomo

Importance of "Responding" rather than "Reacting"

How to have a conversation with our own anxiety as adults so we can teach our children how to better manage their own

Questions to ask ourselves to see if we are emotionally parenting
VIP Members Access Pass
Get more out of this amazing experience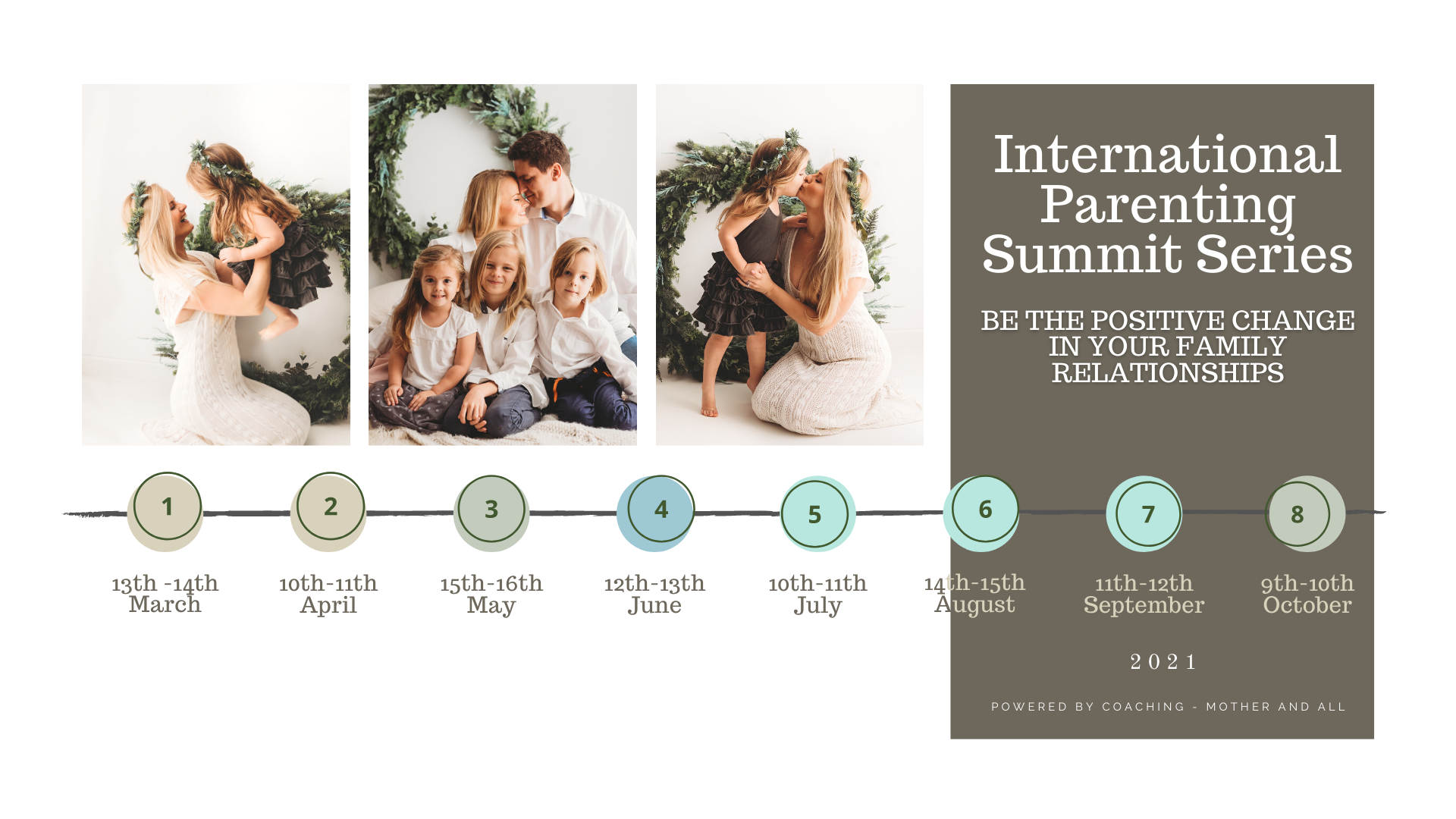 Get your VIP Members Access Pass.
Get access to all Summit Lessons on the days they go live and watch, listen or read the materials at your convenience. 
Don't have time to watch the summit?
No problem, we have created a summit podcast for you. Listen to the speakers on the go. 
Loved the live sessions?! Too bad you can't have it all written down for you.
We are parents! As a busy mom myself I wish someone would make notes for me while I am busy running after my kids. I wish I could sit down and read the lessons not to wake the kids while I have some quiet time.
We created transcripts of all the lessons for you to read, print, highlight and make them your own. 
I read at night when putting the kids to sleep. When do you like to read?
Meet the host during the Saturday Coffee Chat going live on zoom at 20:00 UTC. Ask questions on the topic of the ongoing summit or just hang out with other like-minded parents. 
It is not just one summit... It is a series of eight precise topic-specific summits designed to help YOU be the positive change in your family relationships.
Parenting is hard. You do not have to do it alone. Feel the support all from the experts of the International Parenting Summit Series.
VIP Members Bonuses:
ALL this for only $227.
VIP Members Access Pass
Get 8 summits and loads of bonuses
We can't wait to see you at the summit
In the mean time, make sure you join our facebook community to get great content on Positive Parenting and Positive Relationships.
ADDITIONAL VIDEOS
Lives about the summit
International Parenting Summit Series- promo with Mary Peterson Cook and Malva Gasowski
International Parenting Summit Series- promo with Danielle Brettman and Malva Gasowski
A warm welcome from the speaker